With 2010 about to wrap up, I'm pretty sure my musical opinions aren't going to change in the next two days. That means it's time to do a "favorite music of the year" post. This year, I finally started rating all of my music in iTunes to help me sort through the wheat and chaff when I'm playing music on my iPod and that's helped me figure out which albums I liked the most this year. I took the average rating for all the songs on an album to rank the albums here. I don't know if that's an entirely accurate method to do rankings (standard deviation and all that) but it's a reasonable approximation of what I liked the most this year. Take the ratings with a grain of salt…
My 5 Favorite Albums in 2010
Thad Cockrell – To Be Loved – Avg. Rating – 3.90

A short and sweet little album, but I loved every track on it. Thad Cockrell's falsetto is effortless and his songs range in style and lyrics from Americana to old-time gospel to sweet romance. It's a perfect combination and while it's not a hard rocker it's an album that's relaxing without dripping in sap.
Derek Webb – Feedback – Avg. 3.77

Derek Webb started tweeting early in the year that was considering an album about worship and there was a lot of trepidation on my part. Would this be an album that tackled all the wrongs like Stockholm Syndrome, The Ringing Bell. or I See Things Upside Down, or was Derek simply selling out and hopping on the worship bandwagon. Fortunately, the album turns out to be neither as it is a meditative instrumental album focused on The Lord's Prayer. I'm not sure if there's a lot of new musical ground covered here, and yet it accomplishes its goal of bringing the listener into a reflective and contemplative mood.
Deas Vail – Birds and Cages – Avg. 3.66

I thought this would finish highest as I think it's probably my favorite album of the year. Vocalist Wes Blaylock's voice is otherworldly and the band is a driving force behind him. The album starts strong with "Excuses" and "Cages" and finishes strong with "The Leaper" and "Atlantis".
Switchfoot – Hello Hurricane – Avg. Rating 3.41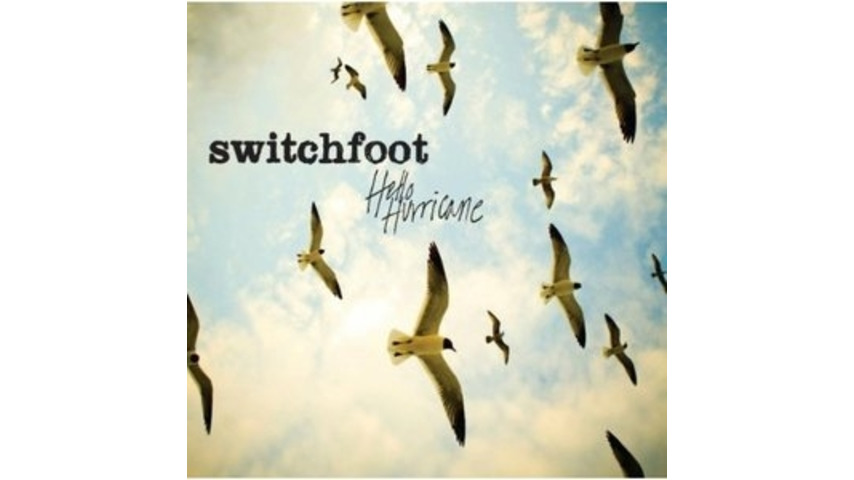 The Beautiful Letdown might have "the big hits", but in my opinion this is a much more consistent album. Switchfoot isn't covering new ground here, mostly following the road paved by big arena bands like U2, but there's something to be said about creating a solid album from end to end that's intelligent and also head-nodding.
Lost Dogs – Old Angel – Avg. Rating 3.40


I've already written a review about this album, but it's held up pretty good through the year. A poignant album about Route 66 was bound to capture me no matter what.
The Next 5 Albums
Eclipse Soundtrack – Avg. Rating – 3.40
Really? Really. One of the great mysteries of the world is how the Twilight soundtracks are so great when the books/movies are so blah. (Sorry, Adriene). With artists like Metric, The Dead Weather, The Black Keys, Band of Horses, and Cee Lo Green, it's just a matter of dropping in the songs and stirring, I guess.
Sleeping At Last – Storyboards – Avg. Rating 3.36
This one took some getting used to because Sleeping At Last has been on a trend towards slower/sleepier music for years now and this album does nothing to reverse the trend, but the songs have so many layers and on repeated listenings they become so rewarding and touching.
Caedmons Call – Raising Up The Dead – Avg. Rating – 3.33
A bold change in direction in sound and delivery (internet only) for a band that's been around for a while, even when the songs aren't the most exciting in the world, Derek Webb's re-connection with the band is a good thing and it's nice to hear them still kicking.
Anberlin – Dark Is The Way, Light Is The Place – Avg. Rating – 3.30
This album was a bit of a disapointment for me coming off of such incredible previous albums, but the strength of tracks like "Impossible" and "Pray Tell" help buoy up the rating a little bit, I think.
…and for the tenth, we have a tie, so let's make it 11.
Sufjan Stevens – Age of Adz – Avg. Rating – 3.27
I didn't like this album at all after the first listen, but seeing Stevens in concert and understanding his vision from a visual standpoint helped me appreciate the album more. It's still a mess of beeps and boops and Sufjan getting sometimes a little too personal for comfort, but when it works, it works. And a 20 minute epic song with a dance party and autotuning smack in the middle? Craziness! Yet still strangely compelling.
The Choir – Burning Like The Midnight Sun – Avg. Rating – 3.27
A strong effort by a band that essentially retired almost 15 years ago. A good portion of the album is self-referential, so I don't know if a new listener would appreciate it as much, but the core elements, Steve Hindalong's quirky drumming and lyrics, Derri Daugherty's smooth delivery and echo-tastic guitar are still there coupled with Tim Chandler's wooly bass guitar and Dan Michaels' saxophone and lyricon.
Honorable Mention- Quiet Science – With/Without (avg rating 3.23), Nitengale – Oh My Heart (avg rating 3.08), The Kicks – The Rise of King Ritchie (avg rating 3.00)